---
Enhanced B-cell Metabolism in Glycemic Improvement Following Sleeve Gastrectomy
James N Luo, Renuka Subramaniam, Tammy Lo, Brian Hou, Ali Tavakkoli, Eric G Sheu
Department of Surgery, Brigham and Women's Hospital, Harvard Medical School
Background: Sleeve gastrectomy (SG) leads to rapid and sustained diabetes remission, and post-SG improvement in immune function has been implicated as a potential contributing pathway. Further, previous works have found mitochondrial and metabolic dysfunction contribute to insulin resistance. Here, we hypothesize that post-SG glycemic improvement is associated with enhanced B-cell metabolism and increased anti-inflammatory function. Methods:12 week-old-male C57BL/6J mice reared on normal-chow underwent SG (n=8) and sham surgery (n=8). At postoperative week 2, mice were weighed and sacrificed after oral glucose tolerance testing (OGTT). B-cell subsets isolated from spleen were co-incubated with the fluorescent glucose analog, 2-(N-(7-Nitrobenz-2-oxa-1,3-diazol-4-yl)Amino)-2-Deoxyglucose (2-NBDG) and uptake assessed via flow cytometry. MitoSOX-Red assay was performed to assess mitochondrial superoxide activity. Seahorse Mito-Stress test was performed to assess B-cell mitochondrial respiratory changes following SG.
Results: OGTT confirmed improved post-SG glycemic control at 2 weeks, in the absence of significant difference in weight loss. B-cells from SG mice demonstrated significantly higher 2-NDBG uptake (Figure 1A) and MitoSOX-Red staining (1B). Mitochondrial stress test demonstrated a significantly higher basal respiration and maximum respiratory capacity in post-SG B-cells (1C). Post-SG B-cells also exhibited a 1.7-fold increase in IL-10 secretion following lipopolysaccharide (LPS) stimulation (1D). All p<0.05.
Conclusion: Following SG, there is an increase in cellular glucose uptake and downstream aerobic metabolism in splenic B-cells, independent of weight loss. These enhanced metabolism and mitochondrial function were also associated with increased IL-10 secretion, suggesting an augmented anti-inflammatory milieu that likely play an important role in post-SG glycemic homeostasis.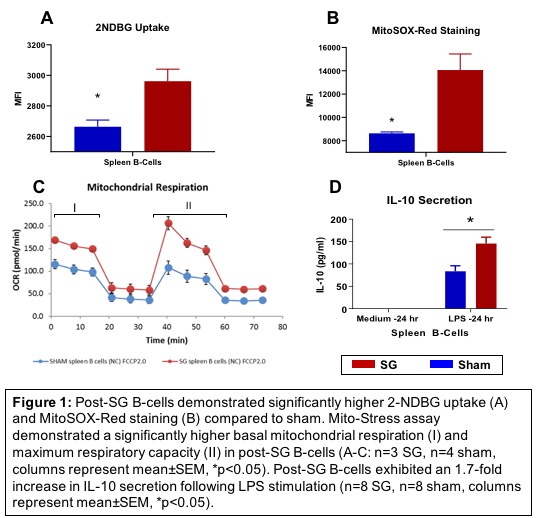 ---
Back to 2020 Posters